Sunday, May 20, 2012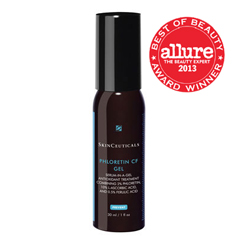 Okay, I know preventative serums aren't the sexiest of Sunday Splurges, but even I need to be practical sometimes and the Skinceuticals Phloretin CF Gel ($152)
is a staple in my morning skin routine.  I found out about Skinceuticals in my early 20s when I was a PR peon at a boutique firm who represented  the brand.  Through my work I was able to learn a lot about the science behind the products and its founding scientist Dr. Sheldon Pinnell.  At the time, Skinceuticals was just starting out and they only had 3 or 4 products in the line, but it didn't matter. All anyone wanted to talk about was their topical vitamin C serum. We didn't have to pitch the beauty editors to try the serum, their assistants were calling us for refills.  Several studies showed that topical vitamin C can prevent photo-aging and help correct inflamed skin, and guess what, Dr. Pinnell is the guy who discovered it.
In the years since the golden days of my early twenties,  Dr. Pinnell and team discovered a way to combine vitamin C with ferulic acid and phloretin to create a powerhouse of protectors warding off the vicious agers of mass destruction. Full disclosure, my skin never got along with Skinceuticals serums until they came out with the Phloretin CF Gel .   Back in my peon days of organizing the beauty closet I tried Skinceuticals Serum 15, which at the time was 15% L-ascorbic acid serum and a little too much firepower for my wussy ass sensitive skin.  Then a few years ago I tried C E Ferulic, thinking that since they added vitamin E it would obviously work on my skin now (E is supposed to be healing, right?).  Big mistake. The E makes the C super-potent.  My skin didn't speak to me for weeks.

You can imagine I was overjoyed last year when Skinceuticals came out with their Phloretin CF Gel, a "serum-in-a-gel" that has a a clear, non-sticky consistency that dries to a satin finish, and most importantly, does not irritate my skin in the least (in fact it has almost a cooling effect).
You're probably thinking, "If I'm going to spend $152 on an anti-ager I want to see some results!" I know it's tough to make an investment in preventative skincare because you don't get any of the satisfaction of looking in the mirror and seeing an immediate difference. But you have to trust me. And if you don't trust me, trust science (via Skinceuticals):
Phloretin CF® Gel defies the boundaries of gel formulations using a state-of-the-art gelifier that meets the strict vitamin C parameters established by Duke University research. 
Formulated with an optimized acid combination of 2% phloretin, 10% vitamin C, and 0.5% ferulic acid, this serum-in-a-gel protects skin from the range of reactive molecules known to cause DNA mutations and damage among the integral cell types. This trusted antioxidant trio also accelerates cell turnover and stimulates collagen synthesis to boost skin's structure for a firmer, brighter complexion. 
Used daily, this preventive and corrective treatment provides broad-range photoprotection and conquers damage at every level of skin. Controlled penetration and a soft, comforting finish makes Phloretin CF® Gel ideal for sensitive skin, ethnic skin types, men, and those who do not like to layer products.
Suitable for problematic, normal, combination, oily, or sensitive skin types.
Trust the science, invest in the magic gel, and be patient.  After my first month of using the Phloretin CF Gel  I definitely saw less overall redness in my skin, and I've gotta say something makes me feel better about enjoying the great outdoors knowing that an arsenal of antioxidants are protecting my face.
This post contains affiliate links. Affiliate links gives the Beauty Binge blog a commission when you click and purchase something from that link. It's just like a retail associate who works on a commission basis. When you shop through an affiliate link on Beauty Binge you help support the site! 
Janna
Posted by
janna
Tags Anti-Ager, Anti-aging, Anti-Redness, Sensitive Skin, Serum, SkinCeuticals, Sunday Splurge