Posts Tagged 'Anti-aging'
Friday, July 26, 2013
I know you ladies must think I'm jaded now that I get free goodies sent to me  from the publicists. But let's be realistic here… An addict is an addict.  Do you honestly think I will ever get to a point where I look at my room (that's right room) full of beauty products and say to myself, "I have enough?"  Please.  As a true beauty addict I simply cannot walk past a Sephora, apothecary or makeup counter without making a purchase.  Sure, I can rationalize "it's for my job" but we all know that if I was in a completely different profession I would be buying the same amount of products (actually I would be buying more because I wouldn't be getting any freebies).
I blame my latest beauty binge on my friend Cat.  She wanted to introduce me to her friend Connie McGrath, founder of Veer & Wander, a salon / apothecary in San Francisco.  As soon as we walked in the door of the industrial chic apothecary, I knew I was in trouble. It reminded me of one of my former problem
binge spots — Woodley & Bunny — a Willy Wonka of an apothecary carrying independent brands in Williamsburg, Brooklyn. Woodley & Bunny is dangerously located 2 blocks from the subway and I would ALWAYS find myself "stopping in" to see if they had anything new, even though my loft was in the opposite direction. Now that I'm in California I thought I would be safe from such temptation. Right…
Posted by
janna
Tags Absolution, Anti-Ager, Anti-aging, Brightening Eye Cream, Earth tu Face, Eye Cream, lipstick, Organic Skincare, puffiness, Uslu Airlines
Tuesday, March 5, 2013
I couldn't resist quoting Bill Withers in my headline because this serum is honestly as close as you're going to get to sunshine in a bottle (hence there being no sunshine when it's gone).  Did you know that more than a billion people worldwide are Vitamin D deficient and that number grows in the winter? Obviously this staggering number caught my attention when Skin Authority sent me a bottle of their Vita D Fortified Elixir ($59). I personally don't think I'm Vitamin D deficient since I live in sunny California, but the promised brightening effects  is what got to me incorporate this serum into my daily regimen.
Posted by
janna
Tags Anti-aging, Anti-Redness, Serum, Skin Authority
Wednesday, February 13, 2013
Now, you lovelies know how hard it is for a woman like myself with such an unhealthy addiction to beauty products to stick to a single product, no less a regimen for a certain period of time.  But, I promised my friends at First Aid Beauty I would commit to using the entire Dual Repair Collection for 6 consecutive weeks.  I cleared out a place on my vanity (so I wouldn't be tempted to cheat) and set up the Dual Repair products like good little soldiers in order of application —  First Aid Beauty Dual Repair Power Serum  ($48), First Aid Beauty Dual Repair Eye Cream ($40),  and First Aid Beauty Dual Repair Face Cream  ($44).
Every morning and night I applied all three products and after the first few weeks (as I wrote about here) I noticed substantial results in the texture of my skin and its usual hyper-sensitivity.  As we all know my drama queen skin tends to take any tiny environmental or hormonal change and blow it up into a huge ugly tantrum that usually results in red patches and whiteheads. Lovely.  I'll just say there have been a lot of both environmental and hormonal changes in the past 6 weeks that would usually put my skin into a tail spin, but instead it was like the Dual Repair Line shook my skin's shoulders and gave it a pep talk, "Be strong! You don't have to overreact to every little problem!"
Posted by
janna
Tags Anti-aging, FAB, First Aid Beauty, Moisturizer, Sensitive Skin
Tuesday, February 5, 2013
Tune into My Beauty Binge this week to hear Lilli Gordon, the founder of one of my most favorite skincare companies in the world, First Aid Beauty, tell us how she created this magical skincare line that stops my over-reactive, bitchy drama queen skin from having full on tantrums.  Lilli also shares her skincare tips as well as gives us her insights on anti-aging.
Download the podcast from iTunes or listen to it streaming on your computer here (it's the 1st podcast) and it's free! If you hit the "SUBSCRIBE" button in iTunes you will automatically get all my podcasts!
Products Featured in Podcast:
– First Aid Beauty Dual Repair Face Cream ($44)
– First Aid Beauty Dual Repair Power Serum ($48)
– First Aid Beauty Dual Repair Eye Cream  ($40)
– First Aid Beauty Anti-Redness Serum ($34)
– First Aid Beauty Ultra Repair Cream ($28)
–First Aid Beauty Ultra Repair Instant Oatmeal Mask ($22)
–First Aid Beauty 5 in 1 Restore Cream ($36)
Posted by
janna
Tags Anti-aging, Eye Cream, FAB, First Aid Beauty, Moisturizer, Sensitive Skin, skincare, SPF
Thursday, January 3, 2013
We all know I have sensitive drama queen skin (mainly because I won't shut up about it) which means most anti-agers are strictly off limits. You can imagine my elation when I heard one of my favorite brands, First Aid Beauty (FAB), is launching a line of anti-aging products specifically for sensitive skin called FAB Dual Repair.  My elation hit a ridiculous level (like chanting OHMYGOD OHMYGOD over and over again until my husband demanded to hear the news) when I found out they wanted me to be a FAB Dual Repair Blogger Ambassador, representing their brand and their new product line.    Now, you should know I've had the chance to work with brands prior to this but I was never interested because I wasn't passionate about the brands (which means this was my first OHMYGOD OHMYGOD since I was made a finalist in the Allure Beauty Blogger Awards).  What got me about this opportunity was that I knew I would have zero problem raving about the FAB products since I've been doing it since the inception of my blog…
My review of First Aid Beauty's 5 in 1 Face Cream SPF 30 was my second blog post in the history of this blog and the very first product review. This means that among my piles and drawers (and let's face it closets) full of beauty products, I was more passionate about this face cream than any other product.  That's love I tell ya.  I declared it "the soul mate for my sensitive skin" and that it was one of the very few beauty products I would never cheat on (though I'm cheating on it now with the FAB Dual Repair, but that doesn't really count since I stayed in the family. Note: this rule does not apply with husbands, only skincare).
Posted by
janna
Tags Anti-Ager, Anti-aging, Anti-Redness, FAB, First Aid Beauty, Sensitive Skin, Sephora
Tuesday, June 19, 2012
As a former beauty publicist (okay it was almost fifteen ago, but it still counts) I'm usually pretty cynical when it comes to "miracle" products.  Every new skincare product seems to have a "revolutionary" ingredient and/or formula that will "change the face of anti-aging forever."  I usually chock this up to good  PR writing, and then try the product hoping for some results but not expecting miracles.   I took this jaded attitude when I read about Institut Esthederm's E.V.E. "Essential Vital Elements" Serum Source ($129):
Rather than creating a serum full of ingredients already know to be anti-aging Institut Esthederm has focused on adding substances found in the skin tissue itself.  This allows the skin to naturally regenerate itself with these essential, vital elements (E.V.E) – including 21 amino acids, 6 minerals salts, 6 trace elements, 9 vitamins, 3 carbohydrates, 5 nucleopeptides and 1 peptide.  
Do I believe me skin was actually regenerated?  Well… that may be a little too True Blood for me to digest, but I can say after the first application of the serum my skin's texture was visibly more refined (as if I had just exfoliated), less redness, and physically felt tighter.   Even though I'm in love with the instant results, the E.V.E. serum is meant to be used only  as a "21 day cure" for almost every skin ailment from  post-acne scars to angry sensitive  skin prone to redness (my affliction).
You pat the serum on to cleansed, toned skin and allow it dry (a couple minutes).  Then, apply moisturizer and SPF as usual.  Even under all my various serums and creams that followed the EVE Serum Source, my skin was noticeably brighter and smoother. In fact, I didn't have to apply highlighter above my cheekbones since the serum gave me a highlighted glow!
I'm anxious to see what my skin looks like on day 21 (I'm only on day 3), and I'm not going to lie to you, the little Sookie in me is hoping for some real regeneration action.  😉
This blog post contains press samples sent to Beauty Binge by a public relations representative.  The Blog and its Author do not provide any guarantee of review, nor whether a review will be positive or negative. The Blog does not accept financial compensation for product reviews.
Posted by
janna
Tags Anti-Ager, Anti-aging, Anti-Redness, Institut Esthederm, Sensitive Skin, Serum
Sunday, May 20, 2012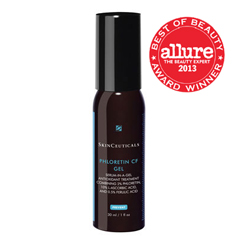 Okay, I know preventative serums aren't the sexiest of Sunday Splurges, but even I need to be practical sometimes and the Skinceuticals Phloretin CF Gel ($152)
is a staple in my morning skin routine.  I found out about Skinceuticals in my early 20s when I was a PR peon at a boutique firm who represented  the brand.  Through my work I was able to learn a lot about the science behind the products and its founding scientist Dr. Sheldon Pinnell.  At the time, Skinceuticals was just starting out and they only had 3 or 4 products in the line, but it didn't matter. All anyone wanted to talk about was their topical vitamin C serum. We didn't have to pitch the beauty editors to try the serum, their assistants were calling us for refills.  Several studies showed that topical vitamin C can prevent photo-aging and help correct inflamed skin, and guess what, Dr. Pinnell is the guy who discovered it.
In the years since the golden days of my early twenties,  Dr. Pinnell and team discovered a way to combine vitamin C with ferulic acid and phloretin to create a powerhouse of protectors warding off the vicious agers of mass destruction. Full disclosure, my skin never got along with Skinceuticals serums until they came out with the Phloretin CF Gel .   Back in my peon days of organizing the beauty closet I tried Skinceuticals Serum 15, which at the time was 15% L-ascorbic acid serum and a little too much firepower for my wussy ass sensitive skin.  Then a few years ago I tried C E Ferulic, thinking that since they added vitamin E it would obviously work on my skin now (E is supposed to be healing, right?).  Big mistake. The E makes the C super-potent.  My skin didn't speak to me for weeks.
Posted by
janna
Tags Anti-Ager, Anti-aging, Anti-Redness, Sensitive Skin, Serum, SkinCeuticals, Sunday Splurge