Posts Tagged 'SkinCeuticals'
Wednesday, May 23, 2012
I know I'm supposed to be writing about simplifying beauty. And I get that.  I know there are tons of women out there who don't have a ton of time to devote to skincare.  I don't have children yet, and as of a little over two months ago I am writing full-time (okay "full time" may be stretching it), so I have plenty of time to sit on my little vintage tangerine-colored stool and play with all my toners, creams, and serums, lined up like good little soldiers on their pedestals (where they belong).  So yes, I will admit my AM skincare routine isn't exactly "routine." Before I even sit down at my tangerine stool, it takes me a good ten minutes to cleanse my skin with the Bobbi Brown 'Extra' Balm Rinse
  ($58).  I give myself an intense facial massage, enjoying the sensation of the thick balm melting into a butter as I massage it in small circles all over my face.  Every now and then I'll stop and cup my hands around my nose and slowly  inhale the pungent citrus scent.  Ahhh…
Then once I get to my little skincare station (see above photo), I could spend a good 15 minutes doing a a basic routine or 30 minutes to go the extra mile and give myself a mini-facial.  If I'm testing products, forget about it. I could be there all morning!
Posted by
janna
Tags Bare Escentuals, Bobbi Brown, Decleor, First Aid Beauty, Fresh, Kate Somerville, Puffy Eyes, Sensitive Skin, SkinCeuticals
Sunday, May 20, 2012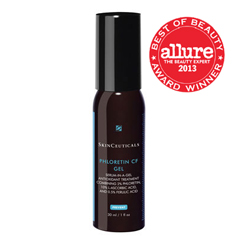 Okay, I know preventative serums aren't the sexiest of Sunday Splurges, but even I need to be practical sometimes and the Skinceuticals Phloretin CF Gel ($152)
is a staple in my morning skin routine.  I found out about Skinceuticals in my early 20s when I was a PR peon at a boutique firm who represented  the brand.  Through my work I was able to learn a lot about the science behind the products and its founding scientist Dr. Sheldon Pinnell.  At the time, Skinceuticals was just starting out and they only had 3 or 4 products in the line, but it didn't matter. All anyone wanted to talk about was their topical vitamin C serum. We didn't have to pitch the beauty editors to try the serum, their assistants were calling us for refills.  Several studies showed that topical vitamin C can prevent photo-aging and help correct inflamed skin, and guess what, Dr. Pinnell is the guy who discovered it.
In the years since the golden days of my early twenties,  Dr. Pinnell and team discovered a way to combine vitamin C with ferulic acid and phloretin to create a powerhouse of protectors warding off the vicious agers of mass destruction. Full disclosure, my skin never got along with Skinceuticals serums until they came out with the Phloretin CF Gel .   Back in my peon days of organizing the beauty closet I tried Skinceuticals Serum 15, which at the time was 15% L-ascorbic acid serum and a little too much firepower for my wussy ass sensitive skin.  Then a few years ago I tried C E Ferulic, thinking that since they added vitamin E it would obviously work on my skin now (E is supposed to be healing, right?).  Big mistake. The E makes the C super-potent.  My skin didn't speak to me for weeks.
Posted by
janna
Tags Anti-Ager, Anti-aging, Anti-Redness, Sensitive Skin, Serum, SkinCeuticals, Sunday Splurge
Wednesday, November 23, 2011
It pains me to even write about how I adjust my skincare for the cold weather. I detest the cold.  There is simply nothing redeeming about a winter day, especially in New York City.  The bracing wind slaps me in the face as I trudge down the street – cracking my lips instantly, cold tears trickling down my cheeks making my face feel like a peeled apple.
My skin is always sensitive, can you imagine what it's like in the winter?  I go into total crisis lockdown mode. Put away any foaming or soap cleansers. Think soothing.  For everyday, I love Fresh Soy Face Cleanser ($38)  (always; not only in the winter) which has cucumber and amino acids.  For days when I'm feeling extra sensitive, I use Decleor 'Aroma Cleanse' Cleansing Milk
 ($36).  It is balancing and softening, but most importantly, I can remove it with a cotton pad.  You would be surprised to know how many harsh minerals are hiding in your tap water.   I store my toners and replace them with Kerstin Florian Rehydrating Neroli Water ($35)
. Not only does this "soothing, aromatic mist" smell delicious, it works wonders for rehydrating throughout the day (and it doesn't disrupt my makeup; just makes me dewey).
I still use my Skinceuticals Phloretin CF Gel ($152) and Skinceuticals AOX+ Eye Gel ($85) 
because the war on free-radicals is never over. Then I slather on First Aid Beauty Ultra Repair Concentrate  
($28).  It's a lovely whipped texture and can basically treat any distressed skin condition. This is the first thick cream I've ever worn during the day, but it doesn't feel greasy and it creates a shield for my face.  And, at only $28 you won't feel wasteful when you use it all over your body on super cold days.  Since it doesn't have SPF, I use Neutrogena Ultra Sheer Dry-Touch Sunblock 30 ($12.99), which absorbs super fast and doesn't irritate my skin.  At night I use Decleor 'Aroma Night' Neroli Essential Night Balm ($73)
, which literally melts into my skin. I wake up to more balanced, brighter, hydrated skin. If you want to know how much I like this product, I gave this out to my sister and sister-in-law last year for the holidays.  I swear by it for all skin types.
Lastly (and most challenging), is the task of trying to keep my lips soft and hydrated. The one thing worse than feeling dry, cracked lips is trying to apply lipstick to dry, cracked lips.  Hot crusty mess. I use Laura Geller Lip Strip to gently scrub away the mess with sugar crystals. Then I coat my lips with Aquaphor, the holy grail of lip balms.
Don't forget my lovelies, in the foreboding words of George R.R. Martin, "Winter is coming!"
Photo courtesy of Tazis
Posted by
janna
Tags Aquaphor, Decleor, First Aid Beauty, Fresh, Kerstin Florian, Laura Geller, SkinCeuticals
Thursday, October 6, 2011
I'm in Denver right now and the absurdly dry air has put me in crisis lockdown mode. My skin is so dry I fear that if I smile my face will simply crack and crumble.  I am slathering Aquaphor on my lips ever ten seconds like Rain Man. All I can think about is where my next bottle of water is coming from.  I'm a disaster.  I cannot wait to get to my hotel room where I can take the necessary steps to regaining normalcy.  Thank the beauty gods I had the good sense to come prepared:
1)  SkinCeuticals Hydrating B5 Gel: This miracle serum adds instant hydration.  First I spritz on a hydrating toner, then I pat on the B5 Gel, and follow with a moisturizer
2)   Decleor Aroma Night Neroli Essential Night Balm: Simply divine.  Don't be fooled by the thick consistency. It literally melts into your skin and it smells amazing.  After toning and applying B5, I take my time massaging the balm into my skin
3)   Aquaphor: I have lip balms in every imaginable flavor, color, and miracle ingredient. Nothing conquers extremely dry conditions like Aquaphor
Photo via Doroty86
Posted by
janna
Tags Aquaphor, Decleor, SkinCeuticals