Posts Tagged 'Anti-Redness'
Monday, July 7, 2014
Never. Drink. Tequila. Again. 
I hope everyone enjoyed the long holiday weekend, and quite frankly, that you didn't make the same mistakes I did.  We double dated Saturday night with a couple that apparently brings out my wild side. Now don't get your panties in a bunch… I didn't start dancing on the bar and lifting up my shirt (Let's not forget I breastfed Stella for several months. If I flashed the bar all I would be doing is mortifying the other patrons).  What I did do was ingest ungodly amounts of tequila and sake (that's right, sake – we had drinks at a mexican restaurant, then went for sushi, and then went back to the mexican restaurant to ensure we really killed our Sunday).
Okay, so I'm pretty embarrassed to confess this next part of the story. To be quite honest it's worse than flashing pancake boobs… I slept in my makeup for the first time in probably 15 years! I won't even attempt to make excuses for my careless actions. I was actually considering telling you that I did it on purpose as field research so I could properly dish out advice.  But even I can't convince myself of such lies. So, to make a long ugly story short — I woke up with my lash extensions sealed together and skin that hasn't been this pissed off since the Clinton administration.
If you've experienced my dreadful situation, I'm sure you were tempted to scrub the hell out of your skin the next morning. No bueno. It's just teasing the bear — your skin is already red and irritated, don't anger it further! First, apply a deep cleansing oil-based cleanser like Elemis 'Pro-Collagen' Cleansing Balm
 to dry skin and leave it on for at least a minute to allow the cleanser to penetrate and start dissolving skin sludge. Then, slowly add water and massage.  Next, use your Clarisonic Cleansing Brush
 to gently (GENTLY!!!) go over your face and rinse. If you don't have a Clarisonic, use a super soft face cloth or a moistened cotton pad.
Now, assess the damage in the mirror. And by the way, don't be fooled and think you're staring back at the worst of the damage. Your skin will air its distain with your alcohol-induced decisions by surprising you with pimples, dry patches, whiteheads and blackheads for the next 24-48 hours. Your strategy is to calm down your skin's tantrum so no picking, squeezing or over-treating!
I digress… After your skin is cleansed, swipe or spray on a hydrating, alcohol-free toner like Indie Lee Co Q10 Toner
 which has skin-plumping Hyaluronic acid and soothing Aloe Vera.  Then, press into your skin a calming serum like Jurlique Calendula Redness Rescue Restorative Treatment Serum  and if your skin is dehydrated (which most hungover skin is) then apply a Hyaluronic acid-based serum like Kerstin Florian Correcting Hyaluronic Serum
. Since Hyaluronic acid attracts 50 times its weight in water, I spritz mineral water and then follow with a calming moisturizing cream like REN Evercalm Global Protection Day Cream
.
For the rest of the day I try and do the obvious things to avoid conflict with my skin — stay out of the sun, go makeup-free, avoid hot steamy showers, say no to the hair of the dog, etc. And, if you do brave the sunlight, slather yourself with non-irritating mineral sunblock and don your biggest, most glamour sunglasses. If you do have blemishes that pop up or detect a painful red bump that you fear will morph into an alien-size pimple, instead of drying it out with topicals try zapping out the bacteria with a TANDA Zap Power
.
I can't promise your skin will bounce back to its glorious self by Monday. In fact, mine still isn't speaking to me and punished me this morning by having me wake up to still-dehydrated skin and red angry patches. Fun times. Eventually we'll make up and everything will go back to normal. In the meantime, maybe I should avoid the tequila and sake and just stick with vodka. Jokes!
Disclosure: I was gifted some of these products with no editorial obligation.
Posted by
janna
Tags Anti-Redness, Clarisonic, Dehydrated Skin, Dry Skin, Elemis, Indie Lee, Jurlique, Kerstin Florian, REN, Tanda
Saturday, August 3, 2013
We all love summer… no denying that.  What we don't love is the havoc it wreaks on our skin. Whether the humidity is breeding more oil fields than Texas or the chlorine and salt water are making your skin dry and irritated, nothing makes you wish for Fall faster than a skin temper tantrum. Or, if you're like me, your skin is a total walking identity crisis — dry and uncomfortable yet still being invaded by blackheads and blemishes. No bueno.
In my constant search to set my bitchy skin right, I was blessed by a publicist who sent me the Zensation Healing and Soothing Mask ($85).  This magical mask instantly talked my skin off the cliff — toning down redness, smoothing, softening, and absorbing oil.  Oh, and it smells like you're walking through a French garden after the rain. Delicious.
Description: 
Healing & Soothing Mask features several ingredients with soothing and hydrating properties that are ideal for irritated skin. With its rich mixture of Carnuba Wax, Bee's Wax, Shea Butter, Natural Glycerin and Provitamin B5, the Healing & Soothing Mask  completely moisturzies, softens and smooths delicate skin.  Adding Witch Hazel Floral Water, Buddleja and Masterwort gives the product a wonderful toning and invigorating effect. Lavender Essential Oil and Tea Tree Oil leaves your skin feeling fresh and re-energized.
I recommend this mask at night after a day in the sun and heat.  If you find that you just can't make time for a mask, wash your face before you shower, apply the mask, and then wash off when you're done with the shower. The steam will help the ingredients penetrate.  Good luck my lovelies, and don't let your skin bully you this summer!
Posted by
janna
Tags Anti-Redness, Dry Skin, irritated skin, Moisture Mask, Sensitive Skin, Zensation
Saturday, April 27, 2013
I feel like every magazine I've picked u  in the past month has touted the Korres Greek Yoghurt Advanced Nourishing Sleeping Mask ($45) as a 'moisturizing breakthrough'. Now I tend to be cynical (shocking!) when I read about a new product in every single women's rag — I figure either the company must have thrown one hell of a decadent launch party or sent out Chanel bags as a launch gift. (Yes, it's done. Not for a peon like me but the editors at the big magazines sometimes receive ridiculous gifts from the beauty brands and tend to give editorial to big advertisers which is why you should be cautious when taking their recommendations. And don't you worry your pretty little heads — if I ever become big-time know that a Chanel bag isn't going to make me like a lipstick more)
Since every editor seemed to be in love with this sleeping mask it was obviously my Beauty Binge duty to investigate the situation further.  I found that the user reviews on Sephora were even more complimentary than the magazines (and I assure you these users didn't attend the launch party or receive gifts) — "I am OBSESSED with this product. I use it every night and it has literally changed my life." and "I have oily yet dehydrated skin prone to breakouts and this sleeping leave-on mask hydrated, calmed and nourished my skin."
SOLD.
Posted by
janna
Tags Anti-Redness, Dry Skin, irritated skin, Korres, Sensitive Skin, Skin Care
Tuesday, March 5, 2013
I couldn't resist quoting Bill Withers in my headline because this serum is honestly as close as you're going to get to sunshine in a bottle (hence there being no sunshine when it's gone).  Did you know that more than a billion people worldwide are Vitamin D deficient and that number grows in the winter? Obviously this staggering number caught my attention when Skin Authority sent me a bottle of their Vita D Fortified Elixir ($59). I personally don't think I'm Vitamin D deficient since I live in sunny California, but the promised brightening effects  is what got to me incorporate this serum into my daily regimen.
Posted by
janna
Tags Anti-aging, Anti-Redness, Serum, Skin Authority
Tuesday, February 26, 2013
That's right. I made the big move to cream foundation by introducing Laura Mercier Tinted Moisturizer Creme Compact SPF 20  ($45) into my regimen. For those of you who have read Beauty Binge from its infancy you know that a couple years ago I was reluctant to even wear foundation on a regular basis. I was under the delusion that I didn't need foundation until Makeup Artist Maria Luxen gave me a shoulder shake and pointed out all the redness in my skin. To make a long story short (to read the long story and the review of the Amore Pacific foundation click here) shortly after my intervention I discovered the AMOREPACIFIC 'Time Response Skin Renewal' Foundation SPF 18
 ($90) which was the perfect starter foundation with its light coverage, dewey finish, skin soothing ingredients, and SPF.
So what went wrong? Well, it takes a lot for me to admit this but I needed more coverage. There I said it. I noticed that it was taking me way too long to apply and blend the foundation, it still looked streaky when I was done, and I could still see redness underneath the makeup.  Now making the move from a sheer liquid to a cream compact is pretty dramatic (and luckily unnecessary) so you can imagine how excited I was when Laura Mercier sent me their Laura Mercier Tinted Moisturizer Creme Compact SPF 20  ($45) in Blush. Instead of thick and heavy coverage like most creme compacts, this is the baby steps version providing light to medium (but buildable to heavy where you need it) coverage with the added benefit of providing hydration and SPF.
Read the rest of this entry »
Posted by
janna
Tags Anti-Redness, Foundation, Laura Mercier, Tinted Moisturizer
Thursday, January 3, 2013
We all know I have sensitive drama queen skin (mainly because I won't shut up about it) which means most anti-agers are strictly off limits. You can imagine my elation when I heard one of my favorite brands, First Aid Beauty (FAB), is launching a line of anti-aging products specifically for sensitive skin called FAB Dual Repair.  My elation hit a ridiculous level (like chanting OHMYGOD OHMYGOD over and over again until my husband demanded to hear the news) when I found out they wanted me to be a FAB Dual Repair Blogger Ambassador, representing their brand and their new product line.    Now, you should know I've had the chance to work with brands prior to this but I was never interested because I wasn't passionate about the brands (which means this was my first OHMYGOD OHMYGOD since I was made a finalist in the Allure Beauty Blogger Awards).  What got me about this opportunity was that I knew I would have zero problem raving about the FAB products since I've been doing it since the inception of my blog…
My review of First Aid Beauty's 5 in 1 Face Cream SPF 30 was my second blog post in the history of this blog and the very first product review. This means that among my piles and drawers (and let's face it closets) full of beauty products, I was more passionate about this face cream than any other product.  That's love I tell ya.  I declared it "the soul mate for my sensitive skin" and that it was one of the very few beauty products I would never cheat on (though I'm cheating on it now with the FAB Dual Repair, but that doesn't really count since I stayed in the family. Note: this rule does not apply with husbands, only skincare).
Posted by
janna
Tags Anti-Ager, Anti-aging, Anti-Redness, FAB, First Aid Beauty, Sensitive Skin, Sephora
Wednesday, November 7, 2012
We all know I'm spoiled… I get tons of products sent to me by publicists for consideration.  I test them all — hating some, liking others, and coveting a select few. When I say "covet" we're talking about products that will permanently become part of my personal regimen and be re-bought again and again. People always ask me, "What are your favorite products?" Here's a good place to start:
1. Kate Somerville 'Dermal Quench Liquid Lift' Advanced Wrinkle Treatment  ($95): I'm a huge fan of in-spa oxygen facials and this treatment seems to mimic the instant smoothing effects of an oxygen facial and still manages to reduce redness and fine lines over-time.  I had two consistent dry patches on my cheeks that were softer after Day 1.  It's also perfect for pre-event regimens since it has temporary wrinkle-relaxing PFC- carriers to relax facial muscles.  Read my original review here.
Posted by
janna
Tags Anti-Ager, Anti-Redness, Delicious Scents, Eyeliner, Kate Somerville, MAKE UP FOR EVER, Nest Fragrance, Sensitive Skin
Saturday, August 18, 2012
Listen, I have always been a big believer in the value of a good cleansing cloth.  There's nothing more appealing after a late night of debauchery than collapsing into your comfortable bed, not having to worry about a thing except maybe whether or not to make the enormous effort of laboring out of your SPANX. Before you close your mascara-coated eyes you remember to grab a cleansing cloth from your nightstand and remove your makeup.  Perfect, right?
Well... For people with normal skin it's perfect, for people like me who have ultra-sensitive drama queen skin if I use a typical cleansing wipe I wake up to redness, bumps and whiteheads. Talk about a walk of shame… Gross! So I've never been able to indulge much in the "I don't have to wash my face because I can just use a cleansing cloth" lifestyle.
The only reason I rolled the dice by trying the Atopalm Moisturizing Cleansing Wipes is because I know all Atopoalm products are specifically made for easily-irritated, sensitive skin.  I've used both their Daytime Undermakeup Moisture Cream and  Moisturizing Facial Cleansing Foam when my skin was having a temper tantrum and both products definitely helped calm everything down.  Their cleansing wipes are no different.  I only need one wipe to take off a full face of makeup and it leaves my skin soothed and hydrated.
Read the rest of this entry »
Posted by
janna
Tags Anti-Redness, Atopalm, Cleanser, Cleansing Wipes, Sensitive Skin
Tuesday, June 19, 2012
As a former beauty publicist (okay it was almost fifteen ago, but it still counts) I'm usually pretty cynical when it comes to "miracle" products.  Every new skincare product seems to have a "revolutionary" ingredient and/or formula that will "change the face of anti-aging forever."  I usually chock this up to good  PR writing, and then try the product hoping for some results but not expecting miracles.   I took this jaded attitude when I read about Institut Esthederm's E.V.E. "Essential Vital Elements" Serum Source ($129):
Rather than creating a serum full of ingredients already know to be anti-aging Institut Esthederm has focused on adding substances found in the skin tissue itself.  This allows the skin to naturally regenerate itself with these essential, vital elements (E.V.E) – including 21 amino acids, 6 minerals salts, 6 trace elements, 9 vitamins, 3 carbohydrates, 5 nucleopeptides and 1 peptide.  
Do I believe me skin was actually regenerated?  Well… that may be a little too True Blood for me to digest, but I can say after the first application of the serum my skin's texture was visibly more refined (as if I had just exfoliated), less redness, and physically felt tighter.   Even though I'm in love with the instant results, the E.V.E. serum is meant to be used only  as a "21 day cure" for almost every skin ailment from  post-acne scars to angry sensitive  skin prone to redness (my affliction).
You pat the serum on to cleansed, toned skin and allow it dry (a couple minutes).  Then, apply moisturizer and SPF as usual.  Even under all my various serums and creams that followed the EVE Serum Source, my skin was noticeably brighter and smoother. In fact, I didn't have to apply highlighter above my cheekbones since the serum gave me a highlighted glow!
I'm anxious to see what my skin looks like on day 21 (I'm only on day 3), and I'm not going to lie to you, the little Sookie in me is hoping for some real regeneration action.  😉
This blog post contains press samples sent to Beauty Binge by a public relations representative.  The Blog and its Author do not provide any guarantee of review, nor whether a review will be positive or negative. The Blog does not accept financial compensation for product reviews.
Posted by
janna
Tags Anti-Ager, Anti-aging, Anti-Redness, Institut Esthederm, Sensitive Skin, Serum
Sunday, May 20, 2012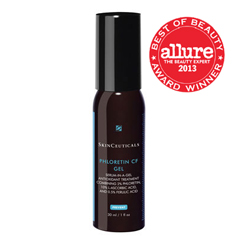 Okay, I know preventative serums aren't the sexiest of Sunday Splurges, but even I need to be practical sometimes and the Skinceuticals Phloretin CF Gel ($152)
is a staple in my morning skin routine.  I found out about Skinceuticals in my early 20s when I was a PR peon at a boutique firm who represented  the brand.  Through my work I was able to learn a lot about the science behind the products and its founding scientist Dr. Sheldon Pinnell.  At the time, Skinceuticals was just starting out and they only had 3 or 4 products in the line, but it didn't matter. All anyone wanted to talk about was their topical vitamin C serum. We didn't have to pitch the beauty editors to try the serum, their assistants were calling us for refills.  Several studies showed that topical vitamin C can prevent photo-aging and help correct inflamed skin, and guess what, Dr. Pinnell is the guy who discovered it.
In the years since the golden days of my early twenties,  Dr. Pinnell and team discovered a way to combine vitamin C with ferulic acid and phloretin to create a powerhouse of protectors warding off the vicious agers of mass destruction. Full disclosure, my skin never got along with Skinceuticals serums until they came out with the Phloretin CF Gel .   Back in my peon days of organizing the beauty closet I tried Skinceuticals Serum 15, which at the time was 15% L-ascorbic acid serum and a little too much firepower for my wussy ass sensitive skin.  Then a few years ago I tried C E Ferulic, thinking that since they added vitamin E it would obviously work on my skin now (E is supposed to be healing, right?).  Big mistake. The E makes the C super-potent.  My skin didn't speak to me for weeks.
Posted by
janna
Tags Anti-Ager, Anti-aging, Anti-Redness, Sensitive Skin, Serum, SkinCeuticals, Sunday Splurge