Posts Tagged 'Sunday Splurge'
Sunday, July 22, 2012
It takes a lot for me to wax poetic about body care products. Don't get me wrong, I love the luxury of starting my day by using a potent body wash that envelops me in a delicious scent, but once I step out of the shower the aroma is soon forgotten. How can it compete with the forthcoming body cream and smorgasbord of skincare I slather on every morning? In this case, NEST Fragrances not only competed but conquered with their new Moss & Mint Body Wash ($28) and Body Cream ($32). I'm telling you I keep smelling my hand ever 30 seconds. And guess who else liked it?  As soon as my husband walked in the room I shoved my arm in front of his face and after he took a long, deep whiff he nodded and proclaimed, "you smell delicious, honey." Trust me when I say he's not saying that to placate me. There have been plenty of occasions when I'm testing products that he physically leaves the room from oncoming headaches.
There is just something soooo intoxicating about the Moss & Mint. It reminds me of the smells of Muir Woods meets an early Spring apple orchard. Yum. These paraben-free products aren't just a pretty scent — both the body wash and body cream are filled with hydrating and protecting powerhouse ingredients like aloe, water-soluble rice bran oil and shea butter.
And guess what? Nest has 5 other scents! My China Glaze Man Hunt-manicured fingers are crossed Nest decides to incorporate their delicious Holiday Collection into a body care line. A girl can dream…
This blog post contains press samples sent to Beauty Binge by a public relations representative.  The Blog and its Author do not provide any guarantee of review, nor whether a review will be positive or negative. The Blog does not accept financial compensation for product reviews.
Posted by
janna
Tags Body Creme, Body Wash, Nest Fragrance, Sunday Splurge
Sunday, May 20, 2012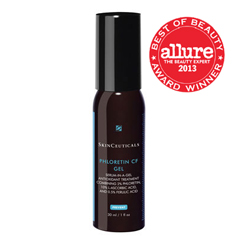 Okay, I know preventative serums aren't the sexiest of Sunday Splurges, but even I need to be practical sometimes and the Skinceuticals Phloretin CF Gel ($152)
is a staple in my morning skin routine.  I found out about Skinceuticals in my early 20s when I was a PR peon at a boutique firm who represented  the brand.  Through my work I was able to learn a lot about the science behind the products and its founding scientist Dr. Sheldon Pinnell.  At the time, Skinceuticals was just starting out and they only had 3 or 4 products in the line, but it didn't matter. All anyone wanted to talk about was their topical vitamin C serum. We didn't have to pitch the beauty editors to try the serum, their assistants were calling us for refills.  Several studies showed that topical vitamin C can prevent photo-aging and help correct inflamed skin, and guess what, Dr. Pinnell is the guy who discovered it.
In the years since the golden days of my early twenties,  Dr. Pinnell and team discovered a way to combine vitamin C with ferulic acid and phloretin to create a powerhouse of protectors warding off the vicious agers of mass destruction. Full disclosure, my skin never got along with Skinceuticals serums until they came out with the Phloretin CF Gel .   Back in my peon days of organizing the beauty closet I tried Skinceuticals Serum 15, which at the time was 15% L-ascorbic acid serum and a little too much firepower for my wussy ass sensitive skin.  Then a few years ago I tried C E Ferulic, thinking that since they added vitamin E it would obviously work on my skin now (E is supposed to be healing, right?).  Big mistake. The E makes the C super-potent.  My skin didn't speak to me for weeks.
Posted by
janna
Tags Anti-Ager, Anti-aging, Anti-Redness, Sensitive Skin, Serum, SkinCeuticals, Sunday Splurge
Sunday, April 22, 2012
Happy Earth Day, Bingers! What better way to binge this Sunday but on a brand like Eminence?  It's an all-organic and bio-dynamic line (the company has been using sustainable farming and green practices to create organic products since 1958), and uses ingredients like cranberries, blueberries, and chocolate which you can literally see, smell, and feel in most of their products.  I know it's a bit much to choose the whole brand for Sunday Splurge, but I feel like in honor of Earth Day we should embrace a family-owned company that invests so much in helping the environment (and because I love the products, of course). Read the rest of this entry »
Posted by
janna
Tags Eminence, Mask, Masque, Scrub, Sunday Splurge
Sunday, February 19, 2012
It should come as no shock that Shu Uemura Art of Hair  landed a second product in my coveted Sunday Splurge column (the first product being the liquid gold of the Shu Uemura Essence Absolue).   Unlike other luxury beauty products who use the brand name to justify a hefty price tag (I won't mention any names), the entire Shu Uemura Art of Hair product line uses only the most premium pure ingredients like  Camellia Oil, Depsea Water, and Jasmine Oil to create their hard-working, luxurious products.
My colorist Meghan Baldwin turned me onto the Moisture Velvet Nourishing Treatment for Dry Hair when I asked her for a deep conditioning treatment I could use to quench my Winter's Bone dry hair during these harsh months.  I originally balked at the $68.00 price tag but Meghan assured me that with my frequent colorings and blowouts, it would be worth every penny.  You can imagine it didn't take much arm twisting for me to agree to buy it.
I own at least ten deep conditioning treatments I don't use. (I'm hoping this column isn't going to prompt my husband to demand another purge. He hasn't commented on the stacks of bottles and jars cluttering our shower area yet.  There's just so long I can use the excuse, "I'm testing for my blog!" before he starts demanding a culling.)
Top reasons my collection of deep conditioning treatments remain unused:
1) The smell turns me off (I hate anything musky or spicy)
2) They act more like a daily conditioner than a deep treatment (so frustrating!)
3) The directions require lengthy  treatment  time or applied heat to ensure efficacy (who has that kind of time?)
4) The product works, but leaves my hair so conditioned I can't style it.
Obviously I was rolling the dice by committing $68 for the Shu Uemura Moisture Velvet Treatment, but given my success with their Essence Absolue, I liked my odds.  The treatment smells like a flower garden after a Spring rain.  I thought I smelled Jasmine, but it was the Camellia Petal that gave the treatment its fresh floral scent.  The treatment's active ingredient is Camellia Oil, one of the most rapidly absorbing oils, which infuses the hair with essential lipids, nourishing and smoothing the hair's fibers.
The texture is a thick, whipped, cream.  It easily combed through my wet hair, instantly untangling and smoothing.  I clipped up my hair for a few minutes while I gave myself a body scrub, rinsing it after 5-8 minutes.  I could feel a slip to my hair that I could tell wasn't the product coating my hair, but rather just healthy hydration.  Next, I followed my Curly Girl Styling Regimen, in the off-chance my hair wouldn't appear limp from the treatment.  I can honestly say my curls have never looked better!!
I shook my shiny, bouncy, perfectly-formed curls in the mirror and thought what a shame that my sexy curls would be wasted sitting on the couch watching Downton Abbey (If you re-read #4 above , you can understand I couldn't afford to take a chance on a night out).
There's always next weekend…
Posted by
janna
Tags Shu Uemura Art of Hair, Sunday Splurge
Sunday, February 5, 2012
I had to make my visit to Phyto Universe a "Sunday Splurge" because, come on, $160 for a hair consultation, deep conditioning treatment, and a blow out?  I'm a big believer in splurging on my hair, but a trip to the "hair spa" for $160 is a new level of decadence.   But of course I adore decadence…
This hair spa is a beacon of serenity in midtown Manhattan, completely transporting you from the chaos of the loud streets below with a 3,000 square foot vertical garden and 9 private hair treatment "cabins."  The location also shares space with its other two brands: a facial and body treatment room featuring Lierac and a "haute parfumerie" by Caron Paris.
Lierac had one esthetician room and a wall of product in the boutique, some that I had not seen at the local CVS.
The parfumerie nook was like walking into a display of French perfume at a museum. It was absolutely lovely — ornate antique bottles behind glass, huge glass dispensers of scents, and pink puffs of different colored powders. And, everything is for sale.  I had fun waiting for my therapist Sonya (though the fun weaned as ten minutes turned into thirty), perusing through the different scents and displays.
I'm not going to lie, the waiting irked me.  Not only did she run late with her client, but then she was helping a shopper in the boutique while I sipped my tea and nibbled my Petrossian cookie (okay, I guess I can't be mad if they gave me Petrossian cookies and tea while I waited).  But once Sonya introduced herself, her sweetness melted away any annoyance.
The treatment began with a hair analysis using the Phyto Scope, a Dr. Who-looking camera that examined my scalp at a 200 magnification.  I was mesmerized. I kept saying, "No wait! Go back! Go back!"  I was disappointed the machine didn't support printing.  I would have preferred taking home photos of those images more than samples.  Needless to say, the Phyto Scope showed I'm fostering quite a bit of build-up in my hair, and even <<gasp>> mild dandruff.  Now, keep in mind I never see dandruff with my naked eye, but I can't get that image out of my head.
Once I got my fill of the Phyto Scope, we headed to our private hair cabin, a generous space with its own equipment, sink, and amenities.  I never had to get up from the chair.
Steps of the treatment:
1) A scalp massage with Phytopolleine – Universal Elixir, used to stimulate and balance the scalp.  It smelled delicious with strong essences of rosemary, sage, cypress, eucalyptus, and lemon.  Obviously I wish the massage would have lasted longer and/or involved neck and shoulder, but a girl can't have everything.
2) Sonya coated my hair, section by section, with Phytonectar Pre-Shampoo Ultra Nourishing Oil Treatment. This oil treatment nurses back dehydrated, chemically-treated hair with proteins and lipids from egg yolk.
3) She put me under a head steamer for 20 minutes to open the cuticle and help the product absorb.
4) She shampooed and conditioned with the Phytocitrus line, specially designed for color-treated hair.
5) Then she applied a mix of Phyto 9, a leave-in conditioning cream, and Phytodefrisant Botanical Hair Relaxing Balm, a non-chemical hair straightener.
6) She finished the treatment with a gorgeous blowout (no flat-iron required).
My hair still looks shiny and healthy. I definitely believe in the efficacy of the Phyto brand, and I could see myself splurging on this treatment every six months. Though, the $160 price tag files this service away as an extravagance rather than an essential (keeping in mind that eyelash extensions and coloring my hair every 3-4 weeks are essentials).
Posted by
janna
Tags Conditioner, Phyto, Spa Slut, Sunday Splurge
Sunday, January 29, 2012
I'm surprised the Fresh Black Tea Instant Perfecting Mask wasn't my first Sunday Splurge. At $88.00 a jar and an insanely addictive consistency, this mask  is one of my biggest vices. You're bound to overuse this product, both in quantity and frequency.  If I won Powerball tomorrow? I would call Fresh and have them ship me vats of this mask so I could take baths in it.
This mask has such a unique consistency that when you first dip your fingers in (which is a luxurious experience in itself), the mask feels like "velvety, whipped" ultra-light, non-sticky icing.  As soon as it's applied, it has an instant cooling effect, which is followed by a mild tingling.  If you massage it in a little, you can feel the tiny Hyaluronic spheres bursting and the mask takes on a wetter consistency.  Then, stop playing with it (trust me, this is the toughest part).  The jar says leave it on 8-10 minutes.  There's no science to it, except when you feel it start to dry or ball up, go ahead and rinse it.  (Note: if you leave it on longer than 10-15 minutes, it gets tougher to remove with just a rinse. I usually wet a cotton pad and wipe it off, then splash my face with cool water.)
It leaves my skin visibly smoother, less red, more even, and gives it an airbrushed quality. Unfortunately, this magical visual effect only lasts six hours, but the benefits of the hard-working anti-aging ingredients perpetuate.
See Fresh's description:
BLACK TEA INSTANT PERFECTING MASK is an intense hydrating treatment that immediately reveals softer, more supple, and younger-looking skin. This skin perfecting formula was scientifically proven to have a significant moisturizing effect 6 hours after the mask is rinsed from the skin surface*! Additionally, it was tested by a consumer-testing panel under dermatological control and was proven to**:
– firm the complexion
– improve skin elasticity
– leave skin feeling velvety, soft and smooth
– leave skin looking resilient and radiant
– smooth the texture of the skin & decrease skin roughness 
– hydrate, nourish and soothe 
– improve skin tone
*in vivo test 
**in vivo test, 32 women tested for 4 weeks and applied 3 times per week
Key Ingredients:
 – Black tea refines the skin's texture, enhancing radiance and smoothness. 
– Lychee seed extract stimulates collagen production. 
– Firming polysaccharides give an immediate lifting effect and work to reduce fine lines and wrinkles over time.  
 – Sake: Detoxifies and softens the skin and is rich in proteins, amino acids, and trace minerals.
– Hyaluronic spheres: Increase skin firmness, suppleness, and hydration
I like to put the mask on cleansed skin before I get in the shower so it works with the steam and protects my skin from drying out.  I'll also use it after a cold day here in Manhattan, when my skin had to battle cold wind, dry indoor heat, pollution, and possibly rain or snow.  Actually when I think about it, I realize I don't need a shower or cold day to provoke me to dip my fingers into this magical jar of cloud fluff.   I'll use it any chance I get!
Posted by
janna
Tags Fresh, Mask, Sensitive Skin, Sephora, Sunday Splurge
Sunday, December 18, 2011
For the last Sunday Splurge before Christmas, I figure it's only fitting I introduce the most extravagant item on my wish list.  (Okay… I didn't actually put it on my wish list. It would have been too obnoxious.)  This sought-after item is the Oxygeneration Personal Oxygen System, sold at Bliss for the bargain price of $1,036 (I will note that it is on sale from $1,295).
Anyone who is familiar my gluttonous spa habits, knows my first choice on any spa menu is the oxygen facial.  It is the one facial that literally makes me glow.  The esthetician uses an air gun to spray me with vitamins and moisturizers via pressurized oxygen.  Oxygen facials are often advertised as "Red Carpet Ready" treatments because they leave your skin plumped and flawless (though it's temporary) and photo-ready.   To give you an idea, I got oxygen facials every week the month before my wedding at Eva Scrivo in NYC. Eva is a beauty Yoda. When I see her at the salon, I grill her for as many beauty tips as I can get (It doesn't hurt that she's absolutely gorgeous in person).  She gave me props for going for oxygen facials a full month before my wedding and said she gives the same advice to her brides.  When Anita from My Life in Beauty interviewed Eva, she asked her which beauty item she would want the most, and of course she said an oxygen facial:
The results last for a few weeks when done correctly.  We actually do them at our spa. This is not to be confused with oxygen facials where oxygen is just sprayed on the skin. Here, the oxygen is pushed into the skin with hyperbaric pressure.
She's definitely right that there is a palpable difference with the oxygen machines that use hyperbaric pressure (you can search "clinics" on Intraceuticals to find spas that offer this service) compared to the spray machines, but even the sprayers will give you the plumping glow, but just won't last as long.  With that said, obviously I can't buy a professional Intraceuticals machine (even though Madonna did. Bitch.),  but a compact oxygen system like the Oxygeneration model would certainly do the job.  I could even make oxygen water! Read for yourself in Bliss's description of why they love it:
• Delivers 50% more oxygen than clean mountain air
• Light, attractive unit, that can be proudly displayed anywhere in the house
• Portable, so you can enjoy a relaxing personal oxygen session anywhere, anytime
In case you haven't heard the buzz in the 'air', extra oxygen offers umpteen benefits including increased alertness and infection-fighting ability, and—our favorite—an age-delaying effect. This sleek portable machine enriches oxygen with a membrane system, and emits 50% more oxygen than you'd find in clean mountain air (the percentage 'climbs' even higher for you city folks). It also allows you to create your own oxygenated water, and has a built-in filter that delivers a vitamin C derivative to help keep skin healthy. Timer allows for 15, 30 or 45-minute sessions. Includes headset and tabletop delivery devices, oxygen water bottle, hose and power cord/adapter. 
I could take it anywhere! This means I would actually be saving money because I wouldn't have to get oxygen facials once a month, which could cost anywhere from $140 – $225. It pays for itself!  In the meantime, I will simply have to suffer through professional oxygen treatments from my favorite spas.
Posted by
janna
Tags Bliss, Intraceuticals, Oxygen facial, Sunday Splurge
Sunday, December 11, 2011
I know it may seem excessive to put a hairbrush that could cost up to $190.00 (of course the one I want only costs $170.00) on your holiday wish list, but does soft, silky hair really have a price?  All blowout-crazy beauty junkies know Mason Pearson brushes are the gold standard of hair tools, lauded by celeb stylists, and known for leaving blown out hair shiny and healthy.
Mason Pearson has been perfecting the art of the hairbrush since 1885.  These brushes literally glide through your hair, tickling your scalp and leaving your tresses gorgeous.  What makes
them so special?   They are handmade, using boars hair and nylon tufts so as to not "break" or tug at your hair. Their signature rubber-cushion pad makes it seem like the bristles are floating on air. This unique design allows the bristles to stimulate your scalp and evenly distribute your  natural oils through your hair.  Great for winter!
See, by putting it on your holiday wish list you are doing your boyfriend or husband a favor. He always talks about how much he loves your hair, right? Well this is just going to make it softer!  (If you think he's going to need more convincing then that, throw in that you'll brush his scalp with it to stimulate growth. Wait, maybe don't. That may not go over well… Stick to the soft, shiny hair. It's your best bet.)
Posted by
janna
Tags Mason Pearson, Sunday Splurge
Sunday, December 4, 2011
With the holiday season in full swing, I've decided to dedicate the rest of my Sunday Splurge posts until Christmas to the art of gluttonous gift-giving (or getting).  These items you will read about in the coming weeks all have two things in common — 1) I don't own them 2) I would like to own them.  (Who wouldn't?)
I love shopping Space NK for their indy brands. Their team obviously takes a tremendous amount of time deciding which products to stock and promote.  My one complaint is they're a little stingy when it comes to GwPs (compared to their generous competitors SkinStore, Bloom, and Sephora), but the quality and diversity of the product more than make up for it.
When I was earning my way to their last GwP (obviously I still have to try for any size GwP if it includes products I like or want to try) I got the Eve Lom Rescue Mask.  I'd seen the line before at Barney's and the product description of the mask appealed to my concerns:
An award-winning mask that does exactly what it claims to do… it rescues irritated, blotchy and distressed skin whilst deep cleaning pores and enhancing exfoliation. The spatula provided helps to allocate the correct amount of product for each usage and minimizes infection and contamination from fingers.
This mask is phenomenal.  I'm not going into detail here since it definitely deserves its own post, but you can imagine I got a great first impression of Eve Lom products.  So when I saw they sell the Eve Lom Travel Essentials Kit ($95), I knew it would be a perfect gateway drug to the brand.
The kit includes:
Cleanser: Use Eve Lom's original cleanser, along with the muslin cloth, for an unparalleled deep cleanse. This award-winning cult classic does it all, literally melting away makeup and grime as it exfoliates, brightens and tones.
Muslin Cloth: Kind on skin, Eve Lom muslin cloths are made of 100% cotton and are an excellent way to exfoliate and enhance daily cleansing when used with the Eve Lom Cleanser.
Morning Time Cleanser: Wake up your skin with this cleansing balm packed full of essential oils that powerfully decongest and refine your complexion. The quick and easy rinse-off formula gets you out and ready to face the day with soft, supple skin.
Rescue Mask: The ultimate purifying treatment mask that helps to clear congested skin, enhancing your overall skin condition and brightening your complexion.
TLC Radiance Cream: This radiance-boosting cream instantly hydrates skin, smoothes fine lines and works to improve elasticity. A lightweight daily moisturizer, it will make your skin look and feel soft, youthful and glowing.
I travel a ton for work so travel sizes are ideal for me.  I'm also definitely a believer in trying premium brands in small sizes before committing to the investment.  If you want to try something more focused from Eve Lom, Space NK offers several different travel size starter sets.  Enjoy!
Posted by
janna
Tags Eve Lom, Sunday Splurge
Sunday, November 27, 2011
With the holiday season in full swing, I've decided to dedicate the rest of my Sunday Splurge posts until Christmas to the art of gluttonous gift-giving (or getting).  These items you will read about in the coming weeks all have two things in common — 1) I don't own them 2) I would like to own them.  (Who wouldn't?)
Okay, so if I'm going for gluttony I will say I would obviously LOVE to have the version of the Party Collection Travel Kit that is overflowing with Bobbi Brown product.  It's $1000, filled with items I already have or will never use, but the Veruca Salt in me can't help but to still want it.  When I first saw the kit — all the colors from the 2012 Fall Color Story in every product  plus her gentle, great-smelling skincare — my mind went to a childhood memory…
I was very heavily into the Barbie scene (shocking), and for my birthday one year I got a Barbie Department Store that came with all the store items.  Once I had set up my perfect little pink and clear plastic displays I got to fill them with Barbie hats, bags, shoes, and jewelry.  And, the piece de resistance — there were even little pink plastic shopping bags with the Barbie logo!  It was the gift that just kept on giving.  But of course I didn't need all those extra Barbie accessories. I either already had them or would never use them. The department store display cabinets and shelves were the real gift.
With that said, Bobbi Brown also sells the empty travel kit separately.  By looking at the photo above, I can see the kit holds a hell of a lot of product, and the silver will look adorable in my bathroom next to my mirrored Tarte jewelry box.  And, it's only $115. Totally doable!
So, my darling readers, I encourage you to forward this to your loved ones as a subtle hint, but please make sure you alert them to scroll down to the last paragraph… 😉
Posted by
janna
Tags Bobbi Brown, Sunday Splurge